(Jon Manners recounts the early days)
My very earliest bands were short-lived. The first one to take hold in the 7th grade, was called the Stingrays. Pretty cool name, huh? The lineup was Chris Calkins on trumpet, Bob Smith on accordion, Barry Smith on drums, and me on guitar. Chris was later responsible for getting me a lot of gigs, especially at high school functions.
The first working band was The Fabulous Intruders. This quickly grew into a 7 piece show band with two lead singers that played a little bit of everything... Show tunes, Jazz standards, Bossa Nova... Not much rock! The band actually did pretty well and played a lot of gigs. Even won a battle of the bands that got us a gig at the 1964 Worlds Fair in New York. That was pretty exciting. While we were at the World's Fair, we also made a music video at the RCA pavilion. How many years before MTV was that? I sure wish I had a copy now. Somewhere, I've at least got a photo of us in the studio recording it.
Here's a photo before the Intruders expanded and became fabulous...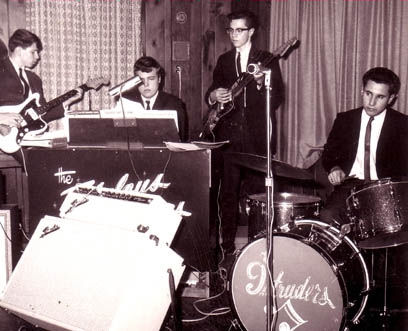 L to R: Ray Schilcher, Smiley (Alan) Matthews, Jon Manners, Barry Smith
(Click on the photo to hear an MP3 of the first original song I ever wrote, Tension, in 1964)