In Memoriam
Class of 1967
we gratefully welcome any additional information, or photos that can be added to this page
---
Ronald Levasseur
Ronald Levasseur of Mesa, AZ, passed away on August 7, 2015 with his beloved wife of 40 years, Karen (Kiska) and family by his side.
Ron was born in Norwalk CT on August 14, 1949. Ron was predeceased by his parents Roland Joseph Levasseur and Leona Anctil. Ron leaves behind his brother Roger Levasseur (Paula) of Palm Harbor, FL; sister Lisa Myers (Barry) of Port Orchard, WA; mother-in-law Helen Kiska; sisters and brothers-in law include Al and Pat Bifano, Don and Dianne Eleck, Ann Huminski, Tom and Maddy Kiska, Sal and Paula Manzi and Jeff and Deb Kiska. He was also a special uncle to 19 nieces and nephews and their families. Ron had a special place in his heart for Dorothy Watson.
He enjoyed and cherished a loyal circle of long-time friends. Ron served in the Navy during the Vietnam War as a radar technician. He was an accomplished and trusted auto mechanic working many years at Larry's Sunoco. As a 14 year old, Ron took over maintenance of the family and neighbors' vehicles. As a hobby, Ron enjoyed working on Corvettes, hot rods and high performance cars. He could always be seen at local car shows proudly driving his '31 Chevy. Ron collected and displayed model trains. He especially enjoyed building and flying radio controlled planes. Ron was as a member of the Country Squires RC Club since the 1980's. He enjoyed many years of boating and was a 29 year member of the South Norwalk Boat Club. A Mass of Christian Burial will be celebrated on Friday, August 14th at 10:00 am in St. Mary Church, 669 West Avenue, Norwalk. Burial will follow in St. John Cemetery, 223 Richards Avenue, Norwalk. Friends may visit with the family on Thursday from 4:00 PM to 8:00 PM at Collins Funeral Home, 92 East Avenue, Norwalk.
posted 12-14-2015
---
Tim Johnson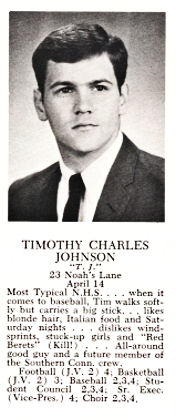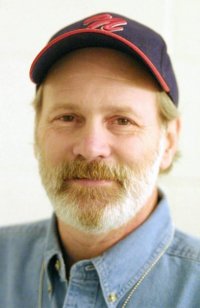 Tim Johnson, a Houston photographer who spent nearly three decades capturing notable images of politicians and all-star pitchers, died of a heart attack Tuesday, July 7th, 2009. He was 61.
Johnson, a Connecticut native, who graduated from Norwalk High School in 1967, launched his career as a freelance photographer in 1980 when he got the only shots of the career-ending stroke that Astros pitcher J.R. Richard suffered during practice. Johnson was on his lunch break from his job as the air conditioning engineer at the Houston Astrodome when he took the pictures. Since then, he's photographed almost every major news and sporting event in Houston, including the Enron trial, the Rockets championships and Nolan Ryan's fifth career no-hitter.
He made many close friends along the way, including former MLB manager Bobby Valentine, former Rockets star Calvin Murphy and former Rockets coach Rudy Tomjanovich.
"I was a friend of Tim's for about 40 years," Valentine, currently managing in Japan's Pacific League, wrote in an e-mail. "Never did I hear him say a mean word about anyone. He was an inspiration to all who knew him and he will be dearly missed. Johnson made friends easily and worked to maintain those relationships. "He's the Will Rogers-type of guy," said longtime friend Richard Carson. "He was always happy, always in a good mood. He was a joy to be around. He brought the level of everybody up around him." Those closest to him appreciated his outgoing nature and strong sense of loyalty.
"If you were his friend, there was no limit on what he would do to help you out," Carson said. Close friend Dan Cook added: "He was the nicest man I ever met and the best friend I ever had."
Even his fiercest competitors admired his photography skills. Johnson always seemed able to anticipate where to point his lens during sporting events. He and the other photographers made a game of trying to distract each another, peers said. "It's really an amazing story of his life. He was a man who always did what he wanted to do and could talk to anybody," said Elise Judkins, 30, Johnson's only child. He wasn't afraid to make small talk with a president or compliment a Cy Young winner, Judkins said. He also made a point of sharing his photos with the people featured in them, often e-mailing or handing them prints as keepsakes, she said.
In addition to his passion for photography, Johnson loved music, golf, crawfish and the TV show House. He cherished his daughter and 14-month-old grandson.
Johnson, who had diabetes, underwent several surgeries on his feet and legs in recent years. He remained upbeat, despite the threat to his ability to easily work and play golf, Cook said. He is also survived by his sister, Dorie Johnson; his brother, Lee Johnson; his sister-in-law, Bonnie Johnson; his nephew, Kevin Johnson; his niece, Lisa Wolff; and his grandson, Alexander Judkins.
A private funeral will be Tuesday at Minute Maid Park. Visit www.facebook.com/timjohnsonphoto for more information.
In lieu of flowers, the family requests donations in Johnson's name to Juvenile Diabetes Research Foundation, Gulf Coast Chapter, 2425 Fountain View Drive, #280, Houston, TX 77057.
---
Lawrence Adams
---
Keith Badger
May 2001
---
James Bartkovich
---
Diane Chontas
---
Fredrick Ehrlinger
---
Linda Gorman
---
Eileen Herz
---
Clifford Hughes
December 2002
---
Sheldon Jacobs
January 2002
---
Douglas Kocher
May 2005
---
David Lawrence
---
Vincenzo Lipera
---
Carol Popp
---
Daniel Shea
---
John Van Andel
---